Surveillance

Reliable Storage for High-Definition Video Surveillance

Growing Surveillance Storage Requirements
Heightened physical security concerns spanning all industries, coupled with technological advancements is driving the requirement for higher camera resolutions, more fields of view with wider dynamic range and longer storage retention periods. Nexsan E-Series data storage systems reduce complexity and total cost of ownership with performance and capacity to scale and reliability to keep your video surveillance operations online.
The Surveillance Dilemma
Protecting property, people and assets have sharpened focus on the convergence of IT and physical security infrastructure. Surveillance mandates and best practices are requiring longer retention periods in more public locations and at higher video resolution requirements to support investigations of criminal and terrorist activities. This has driven an unprecedented need for secure, reliable, and high-quality searchable video evidence around the clock.
These growing surveillance requirements are in-turn, driving demand to broadly deploy digital video surveillance systems with capabilities that include panoramic, high-definition IP-based cameras, Digital and Network Video Recorders, video management software, indexing applications, facial recognition technology, big data analysis and the storage media to capture and retain it all for as much as 365 days.
These expectations mean new storage management challenges for digital video surveillance, including:
Maximized storage efficiency and scale as part of a video management solution

Increased capacity to meet the growth of live and retained high-definition streams
Increased density to fit within the constraints of the surveillance control environment

Increased performance for capture as well as multi-stream playback and search for investigative purposes
Reduced total cost of ownership
Continuous surveillance operations
Requirements Five Top Reasons to Choose E-Series for DVS
Increase DVS Efficiency and Scale
A single four rack unit E-Series chassis can be configured with up to 480TB in capacity, making it 10X more dense with an improvement in rack space efficiency of up to 5X over that of other Digital Video Surveillance offerings. A single E-Series can scale to over 1.4PB, and when integrated as part of a video management solution, can provide multipetabyte scale.
Easy DVS Storage Management: E-Series is up and running in minutes and managed with simplicity through an intuitive, single-pane-of-glass interface, even when remote. Innovative ease-of-use functionality makes deploying, managing and maintaining storage a snap for the resource constrained professional.
Greater DVS Storage Performance: A single E-Series can record digital video surveillance at a rate of 2.4GB/s and has been specifically designed to handle hundreds of parallel surveillance streams from high-resolution video sources without frame-drops.
DVS Storage Uptime: E-Series includes CoolDrive and Active Drawer Technologies, that when coupled with an anti-vibration design, produces a highly reliable DVS storage system that reduces disk drive failures and improves overall system performance, contributing to an always-on surveillance operation
Lower DVS Opex: E-Series delivers up to 87% reduction in power and cooling, lowering operating expenses and extending overall life of the system. Flexible power management allows the user to configure each RAID set to progress into deeper levels of sleep when they have not been accessed for a specified amount of time. Five levels of power management allow you to balance power savings and responsiveness for varying applications.
Reduce DVS Storage Total Cost of Ownership: E-Series' unique chassis design reduces scaling complexities that arise with less efficient storage systems. Deployments are simple; require less cabling, less rack space and less ongoing administrative costs.
More Hours, More Resolution, No Problems
Today's round-the-clock operation is continuously challenged to do more with less and are required to increase camera resolutions, provide more points and degrees of view to capture broader areas with the ability to zoom in on people or objects without loss of detail, and deliver sharp picture quality for analytics.
More points and degrees of view mean that there are more camera streams while the need for cameras that have panoramic fields of view need to have a minimum of on one-megapixel (1MP) of camera resolution per stream. Depending on the actual resolution and the number of streams being captured, round-the-clock video capture and retention of all video for longer periods is increasing both the storage capacity and performance requirements.
Multiple streams and angles of high-resolution surveillance comes with a price, requiring up to 20 times more storage capacity that lower-resolution video captured with older technology. Further, the requirements to increase storage capacity are constrained to fit into close quarters control rooms – and cramped budgets.
The Surveillance Dilemma
Nexsan storage systems address these needs as part of the physical security ecosystem and are deployed around the globe into environments such as airports, financial institutions, transit authorities, government installations, casinos, retailers and sports and entertainment venues. IT and security administrators are always looking to maximize reliability, flexibility, performance and manageability. Easy-to-install Nexsan storage systems integrate with video management software and solutions that include the most popular brands of IP cameras, analog converters, DVRs, NVRs, video management applications, networking infrastructure and facial recognition/data analysis solutions.
Nexsan E-Series Overview
Nexsan E-Series systems are dense storage capacity platforms that can provide the network and storage performance necessary to handle hundreds and thousands of high-definition digital video surveillance streams without dropping frames – crucial for analytics and evidentiary acceptance.
E-Series can act as back-end storage for digital or network video recorders or can plug into large-scale IP camera networks using IP SAN technologies. You can scale capacity behind eight ports of IP connectivity in each E-Series, or scale capacity and multiply IP port connectivity by adding E-Series to your network to handle thousands of camera feeds and playback streams.
High reliability is a given requirement for digital video surveillance storage in the always-on nature of the physical security. E-Series delivers a nosingle-point-of-failure architecture that supports round-the-clock real-time monitoring, recording and analytic operations.
| Features | Reliability Benefits |
| --- | --- |
| Redundant components such as controllers, power supplies and fans | Keeps systems running 24×7 – if a component fails, the other continues operation until replacement |
| ActiveDrawer Technology | Keeps systems operational during maintenance such as swapping in new drives or other components |
| CoolDrive Technology | Reduces risk of losing a hard drive during recording through lower systems operating temperatures |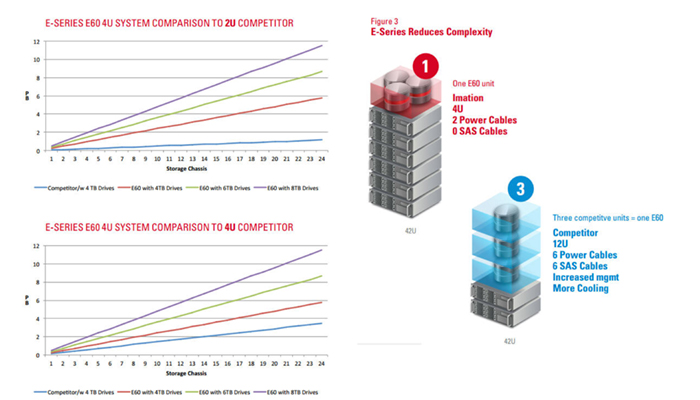 E-Series Conclusion
Operational surveillance requirements mean a higher number of deployed cameras – ranging from tens to thousands – with higher digital resolutions that in-turn drive increased networking bandwidth, storage performance and the capacity to retain recordings for months. Nexsan E-Series has been a workhorse for digital video and media solutions and is a clear choice for digital video surveillance deployments.